Experience & Quality
EN ISO 9001:2015 Certification
Mag. Andreas Raffeiner GmbH – certified according to the quality standard ISO 9001:2015!
As an external service provider, we maintain high quality sustained by our partner firms in our internal processes as well.

Hence, we started setting up a documented quality management system consistent with the ISO 9001:2000 requirements already in early 2006. Since to date no experience has been gathered in Austria in regards to our very specific business sector (external monitor, external CRA, freelancer), this is a very unique challenge for our company. Hence, it is a special privilege to be able to announce that our company
successfully completed the certification process on October 30, 2006.
This certification procedure consists of a detailed review of all quality-relevant company processes. Obtaining the ISO certification is yet another statement about the standards of our quality management, offering guarantees to our clients that every individual business operation carried out by Mag. Andreas Raffeiner GmbH corresponds to the norm and meets the high quality requirements of the ISO standard.
Quality Austria carries out yearly external audits in order to ensure the actual adherence to the quality management system as well as its further development.
Upon request, we will be happy to provide you with a basis for this certification – The Management Manual of Mag. Andreas Raffeiner GmbH (Trade register No.: 416 / 6485 BH Urfahr – Umgebung).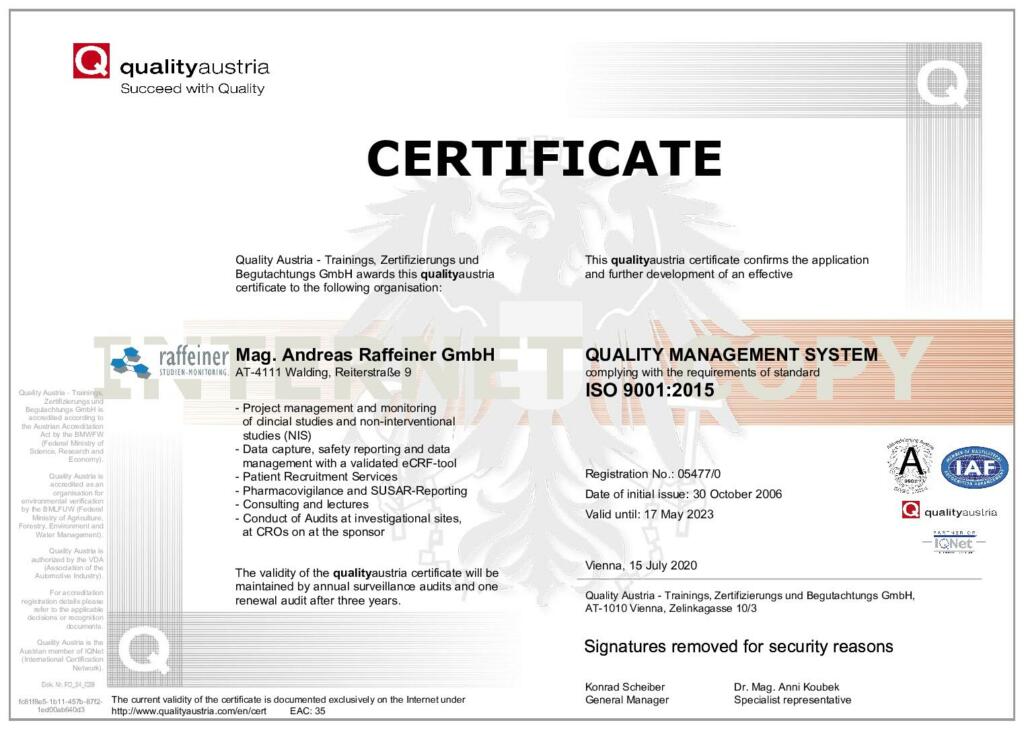 ---
Experience and therapeutic areas
---
GASTROENTEROLOGY (> 900 Patients)
Dyspepsia
H. pylori eradication
Gastro-esophageal reflux disease (GERD)
Stomach protection in NSAID use
Peptic ulcer bleeding
Chronic inflammatory bowel disease
Hepatitis C
HÄMATOLOGY (>400 Patients)
Prophylaxis for deep vein thrombosis (DVT) and pulmonary embolism following extensive orthopedic surgeries
RHEUMATOLOGY (>350 Patients)
Rheumatoid arthritis
Psoriatic arthritis
Ankylosing spondylitis
Systemic juvenile idiopathic arthritis
Systemic lupus erythematosus (SLE)
Polymyositis
DERMATOLOGY (>100 Patients)
Dermatomyositis
Psoriasis
Contact dermatitis
BONE DISEASES (>400 Patients)
Osteopenia and osteoporosis
Osteoarthritis
METABOLIC DISEASES (>100 Patients)
RESPIRATORY DISEASES (>1000 Patients)
Bronchial asthma
COPD
Seasonal allergic rhinitis (hay fever)
Acute bronchitis
CARDIOLOGY (>400 Patients)
Hypertension
Heart failure
Cardio-renal end point study in diabetes mellitus type 2
Antithrombotic therapy following STEMI and NSTEMI
NEPHROLOGY (>200 Patients)
Dialysis and peritoneal dialysis
Pre-dialysis
Treatment of anemia in chronic kidney disease
Immunotherapy following renal transplantation
NEUROPATHY (>100 Patients)
CENTRAL NERVOUS SYSTEM (>100 Patients)
Schizophrenia
Acute ischemic stroke
Alzheimer's disease
Japanese encephalitis
Depression
Multiple sclerosis
ONCOLOGY (>250 Patients)
Breast cancer
Colorectal cancer
Prostate cancer
Endometrial cancer
Ovarian cancer
Cervical cancer
OPHTHALMOLOGY (>5 Patients)
IMMUNOLOGY (>90 Patients)
STUDIES ON MEDICINAL DEVICES
Rhinopharyngitis / rhinitis in children (> 200 patients)
NON-INTERVENTIONAL STUDIES
IN THE CLINICAL THERAPEUTIC AREAS:
Rheumatology (> 800 patients)
Metabolism (> 800 patients)
Psychiatry (> 150 patients)
Nephrology (> 100 patients)
Dermatology (>50 patients)